What is your advice for someone working their way to become an Optician?
Don't ever give up! Making a lot of mistakes can be discouraging, but keep your head up and keep going! Learn from every mistake and strive to be better next time.
Why should anyone get certified/licensed?
Becoming certified has given me the tools I need to be able to troubleshoot problems patients may be experiencing. It also allows me to troubleshoot problems before they happen regarding the patient's habits or lifestyle.
In your experience, what is the best way to prepare for an Opticianry test?
You really have to have an idea on how you study. For me, I hand wrote everything out in my own notebook and took 5 Laramy-K practice tests per day until my exam.
What do you remember as being a prominent part of the test or that you were surprised to see on the test?
There was a whole lot of prism equations on my test. Thankfully, I had heard from other opticians that this would be the case. Study your prism calculations!

How do you decide if an additional credential should be earned?
Depending on the state you'll be practicing in, you may have a hard time moving up in the ranks without proper certification or licensure. Talk to your manager or doctor about your plans for the future so you can build your personal support group. The optical community is a very tight knit community and most people are supportive and will help you achieve your goals. My doctor and manager helped me pass my test by quizzing me throughout the day and giving me helpful advice.

What was the point when you decided to attain your license/certification?
I had been a fairly decent uncertified optician for a number of years. I wanted to become a manager in an unlicensed state. I needed to know if I had what it takes to handle the stress and work of becoming certified. I learned how much I loved being an optician in the process and am so thankful I decided to take the leap.
What do you feel is your strongest skill as an Optician?
Problem Solving. I'm awesome at being able to communicate scenarios to patients to be able to pinpoint exactly why they are having problems with their eyewear.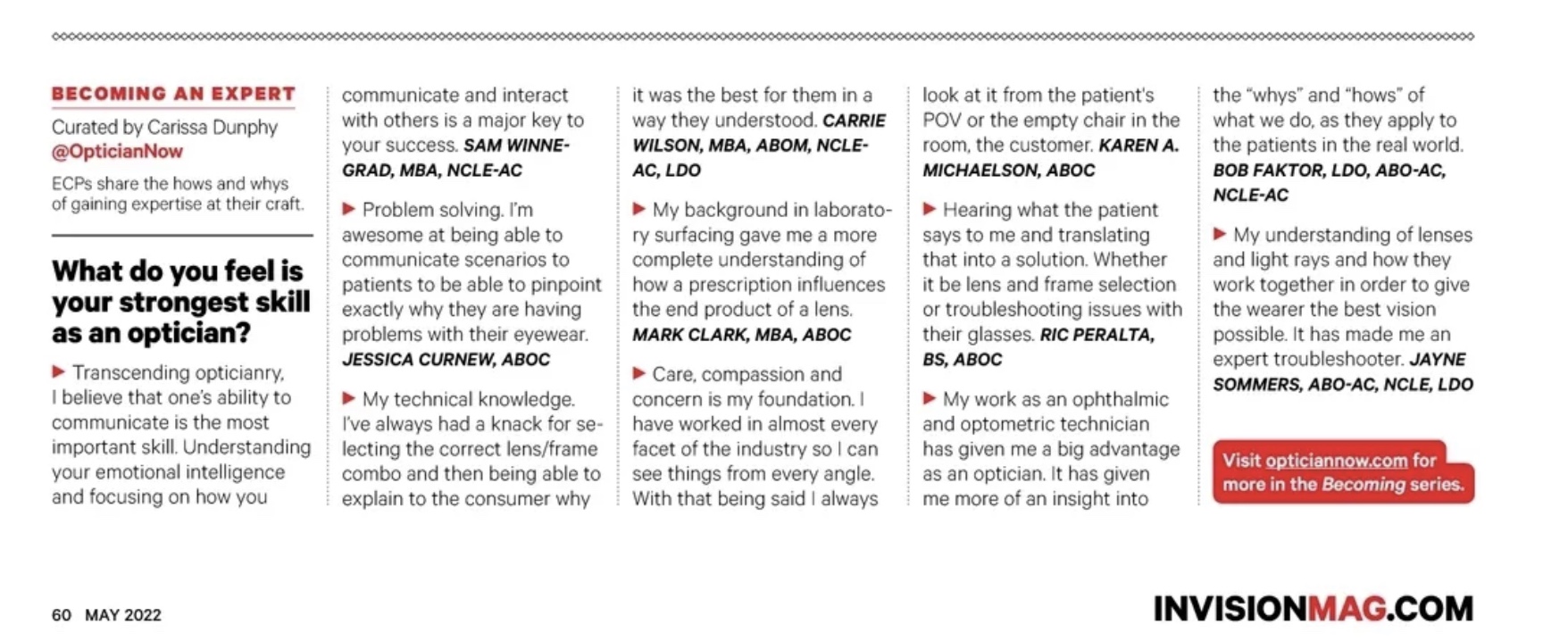 What role have you held that best helped you to be the Optician you are today?
My current role. I am the social media manager for a small group in Las Vegas and it has helped me grow into the person I am today. I love my manager and the doctors are all amazing.
What is your advice to someone who lacks sales skills or confidence?
I was never the greatest sales person because I'm a huge introvert. I learned to tie everything in to helping the patient from a place of concern for their way of life. I won't sell anything to anyone who doesn't need it, but I always explain the options I think would best suit their lifestyle when I speak to them.
If you are no longer an Optician in the traditional sense on a daily basis, how did your Optician skills help you with what you're doing now?
I'm still a part time optician, but I also create and sell optical swag! I funnel my love of glasses and eyewear into everything that I do. I use drawing as a way to wind down and relax, and now I share that with other eye enthusiasts!
Some days will be hard, so it's important to focus on your self care. Find something you enjoy doing so you don't overthink every situation. Life is too short to be worried. Leave your work at work and find healthy way to unwind and focus on you. You can't help people to the best of your ability if you are pouring from an empty cup.
Responses in this interview provided by Jessica Curnew, ABOC
Find Jessica online here:
Instagram
Etsy shop
Journals on Amazon