Our industry has an enormous social media presence, specifically Instagram, where we can visually market ourselves and our practices. While there are so many practices utilizing these platforms, many are not. How do I, an industry resource, help guide those who need advice on social media? I get an expert and ask them the real questions you want answers to.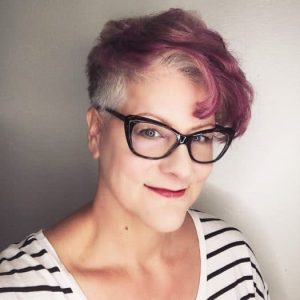 Meet Peggy Gartin, founder of The Social Eye, an optical industry social media marketing consultant. She has spent the last 10 years developing meaningful social media marketing strategies for medium to large-sized companies after a career in web development and online technology. Peggy now helps small businesses reach new customers on Instagram and Facebook and her wide network of social media professionals is a constant source of knowledge and best practices.
Here is what I asked Peggy:
Some practices either do not have or have but do not regularly update a business Facebook/Instagram account. Why is it important TO update them?
It's important to place what you offer in the path of your customer. People are starting to actually shop through Instagram and build their look there. The glasses you sell could be a part of that, but only if they're there to be seen! Also, there's plenty about eye health that people don't know, and myth-busting or sharing tidbits can remind them to make an appointment.
The #1 reason I hear about why pages aren't updated is that there is no time to do so. What is the bare minimum an office should post?
It can definitely be a challenge. Opticians have to be experts in so many areas, from optics to fashion to insurance! When were they supposed to get a degree in marketing? I would say post once a week at minimum to keep your social presence on life support. You can surely take one photo and post it to Instagram and Facebook.
The #2 reason I hear is that they don't know how to and/or have time to learn. What do you say to this?
The best way to learn is by doing. I have a career in social media now basically because I started tweeting 12 years ago, just for myself. As you run into challenges, you learn what works and what doesn't. And don't be afraid to ask questions! I have learned more tricks simply by seeing an awesome post and asking, "How did you do that?"
How do you decide to embark into the social media pool or to outsource it?
I would say start by doing it yourself and seeing if that's sustainable. You may be great at it, and can find time for it. Or you may find you're not a great photographer or writer or tech geek, and you have a new respect for those who are. If you know you need regular social media content and you're not the one to make it, contact a pro like me (@socialeyesonyou). But do some homework on whoever you might hire. How do you like their social content? Does it seem unique and personal, or generic and "sales-y"? Ask who their clients are, and see if those social feeds are similar to what you'd like yours to be.
What can Facebook/Instagram do for an Optometry office? Isn't this stuff for microbreweries and people who love selfies?
In a medical office, it can be easy forget this, but you are selling self-care, identity, and style. This could not be more relevant to the "selfie generation"! By interacting with your existing customers, you strengthen the bond between you, so they always come back to you for their eyecare and eyewear. And by showing happy customers in craveable eyewear, you attract new patients, who are usually bewildered about how to find great glasses.
How do you use social media to actually get a new patient into the office?
As with any business, show the customer what they want. Great eyewear, easy hours, convenient location, complementary services, patient professionals who will answer questions – whatever your advantages are, showcase them often.
Why should I even bother? I have no followers and no one comments.
If that's the case, you should ask yourself: who have *I* followed? How many comments have *I* left? In social media, as in life, you get what you give. You can't be a wallflower at the cocktail party and then complain that no one talks to you. Join the conversation!
Are hashtags needed, how do I know which to use on Instagram? Do I use them on Facebook too?
Hashtags are essential on Instagram. It's just another avenue to be discovered by new followers who could turn into new patients. On Facebook, they don't work as well, so skip them. Clicking a hashtag there doesn't bring back the global search results that it does on Instagram.
If you could advise a practice only one mega-important social media tip, what would that be?
Remove from your mind that there is a "right" way to do social media. There are things that work, and things that don't, and they change all the time. If you're posting and joining the conversation, you're doing it right. Build from there.
This interview was with Peggy Gartin, Founder & CEO, The Social Eye
web: socialeyesonyou.com | insta: @socialeyesonyou