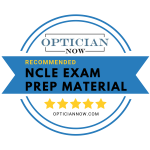 Look for the "recommended" seal on products!
Some links on this page may include affiliate links to Amazon and its affiliate sites on which the owner of this website will make a referral commission.
Optigal's Introduction to Contact Lens Fitting: Interested in passing the Contact Lens Registry Exam given by the NCLE? Are you looking for an easy to understand guide that breaks down the basics so that you can apply them in your day-to-day tasks? Then this is the book for you! Written with the new contact lens fitter in mind, this manual breaks down the key points that you need to know in order to be successful in furthering your career.
Contact Lens Review Book from NAO: Features hundreds of multiple choice questions-and-answers with a brief explanation for the correct answers. The questions and answers are arranged in the same domains as found on the National Contact Lens Examiner's Certification Exam.  The NCLE Test Content Areas and Test Specifications are also included in this text. Those preparing for the NCLE Certification Exam will also benefit from the Strategies for Test Taking section of the book.
Contact Lenses in Ophthalmic Practice: Even with the advances in intraocular lens technology and the growing diversity of refractive surgery techniques, the role of contact lenses in ophthalmic practice has only increased. This is due in part to the great strides in materials, technology, expanding applications (both refractive and therapeutic) for contact lenses, and the clear recognition that contact lenses will always be an important tool for the ophthalmologist. With the fitting of contact lenses as a medical art, requiring a thorough understanding of anatomy, physiology and optics of the eye, this practice is formulaic only in part. The rest of contact lens practice requires sound medical judgment and decision- making that comes only with "hands-on" experience. The authors address this need by starting with a didactic approach that incorporates frequently-asked questions and straightforward answers so that the ophthalmology resident, intermediate contact lens practitioner, and optometrist will find this to be an indispensable resource.
NCLE Contact Lens Training Videos:  Sam Winnegrad, LDO, has created a series of videos which simplifies complex topics – helping you understand the material as you study and prepare to become a certified optician.