The decision to become a Mobile Optician came about fairly easily! My husband and I were discussing the differences between going into an office and purchasing eyeglasses online. We soon realized that there was a gap in between the two and that we could fill the void.
Our original idea with this business was to only host events. Essentially parties where I would bring my frames in a case (like a frame rep) and people would invite their friends. It would be in their home or another venue of their choosing. Everyone loves to get their friends opinions while trying on frames so this way everyone can help each other out! Then we have a second event scheduled two weeks later where I dispense the eyeglasses. This has worked really well! I enjoy the different environments and the new patients that I get to help.
From that initial plan, our business has evolved into a few other avenues! We have opened up our schedule for one on one frame fittings and dispenses. We discovered that not everyone wants to have a party and not everyone's schedule allows them to conveniently make it into an office. We will schedule an appointment with the patient at a time and place convenient to them. That way people can have the in-office Optician assistance and knowledge and have it be as convenient as possible. We all know that some online eyeglass companies are not known for their accuracy but people still use them due to convenience! Being mobile allows me to bring together valuable aspects of both worlds and present that to my patients!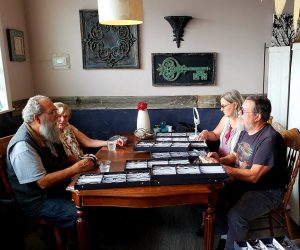 We also love to visit assisted living facilities and bring eyewear options to the residents. We schedule times to set up an Eyeglass Cleaning and Adjustment Clinic. From there, if glasses are necessary, we can also provide that service. I think that we all have encountered someone whose Grandma, parent, spouse, etc is at a care facility and can't get out for a repair or an adjustment. I can be that person to go to them and help!
Being a Mobile Optician is a really fulfilling and varied business. There are many facets to it and I enjoy each and every one!
Rebecca Swislow, Luminary Optical