As an Optician, I have always enjoyed learning about the history of our profession and industry, part of that history is American Optical.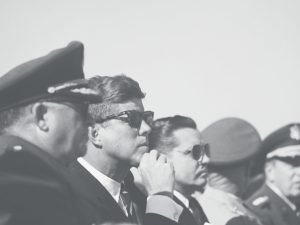 Earlier this year STATE Optical Co, the handmade luxury eyewear division of Europa, announced their acquisition of AO Eyewear. American Optical is the oldest optical company in America (dating back to 1833) and STATE has long looked up to them. Although the companies were founded over 150 years apart, both were born out with the belief that American eyewear craftsmen can make the best eyewear in the world.
Read my interview with STATE CEO, Scott Shapiro here
Craftsmanship
With AO heritage comes unwavering quality. AO craftsmen are sculptors, machinists, and perfectionists, rolled into one. Every AO frame progresses through rigorous quality control processes throughout production ensuring every frame shipped is held to the highest standards.

There is no machine in the world as valuable as a skilled craftsman. Every AO frame is handcrafted in our Illinois factory. Our process blends machining and handwork to create the highest quality frames.

The finished product blends lasting style, carefully engineered comfort, and quality you can count on, guaranteed for life. To us, that's what it means to be a True Original.

What else makes this partnership so perfect is that AO makes both metal and acetate frames, where STATE has been limited to acetate. This new marriage can expand the materials that both brands can offer. The new AO was just launched, in late summer of 2020, with three models. I am very excited to share them with you!
The Original Pilot
The Original Pilot was improved upon by allowing standard nose pads instead of crimped and is available in military-grade 23K gold, silver and matte silver (my favorite). You have two options of temples: bayonet or standard. The standard is, well, standard where the bayonet is a clear wide flat temple tip that is designed to slide on under any sort of headwear or helmet. It is very comfortable and I think I would prefer the bayonet over the standard temple even for casual wear. The lenses are available in green or grey in nylon or glass, but availability varies based on frame color. The Original Pilot is sized to fit nearly everyone:
52-20-140
55-20-140
55-20-145
57-20-140
57-20-145
The General
The General too now has standard nose pads and is available in military-grade 23K gold, silver and rose gold. The rose gold is a new color offered, for modern times and I imagine to get more women wearing the typically men's frame. The lenses are available in brown, green or grey in nylon or glass, but availability varies based on frame color. The General was previously only available in a 55-14-140 but is now also available in a 58-14-145.
The Saratoga
The legend. The Saratoga is an iconic acetate sunglass frame that hasn't been produced in decades. I can't imagine anyone that this frame wouldn't look good on, and guess what, it does not have ridiculous panto! I am a tough sunglasses fit and a tougher critic and they looked and felt great.
The Saratoga is available with standard temples and in 52-19-145. The lenses are available in brown, green or grey in nylon, but availability varies based on frame color. This classic is available in SIX colors: black, yellow crystal (my favorite color overall), grey crystal, brown-demi (my favorite color on me), havana and tortoise. Wow. Oh, and look at that barrel.

Lenses
When glass is a chosen option you get AO SkyMaster Glass lenses, which offer superior clarity and scratch resistance. The nylon AOLite™ lenses are extremely lightweight and impact resistant. Both materials are available in polarized or non-polarized. All glasses have the AO logo etched in the left temporal corner.
Glasses care
While the brand has been revived, the history has been kept true. These details are absolutely brilliant, I love them and please excuse the optical nerd in me that's coming out, it cannot be suppressed. They stuck with the original design for the cases and box.

The cleaning cloths are the blueprint for the frame.



One more improvement since the original: standard screws. No more "red dot system"

Image from The Optical Heritage Museum (near where the original AO factory was located)
While the collection is small, more classic models are in the pipeline to be released this year and next. I appreciate the historical brand loyalty with a smaller release and emphasizing the legendary models. I am looking forward to what comes next from this true American Optical story.

If you're interested in carrying American Optical, contact your STATE Optical/Europa rep or their office here.