What is your advice for someone working their way to become an Optician?
Being an optician is an exciting career path – merging healthcare with customer service, the opticians needs to not only hold a wealth of knowledge to care for their patients, but also be able to converse and relate to them in a way that builds relationships and establishes trust. To become a successful optician, one needs to be able to spend time learning the theory behind why they are doing what they are doing. This knowledge translates to expert patient care. One also needs to realize that adjusting eyewear is as much an art as it is a science. Real world exposure and experience are the only ways to master this craft.
Why should anyone get certified/licensed?
Certification is the industry standard. If one truly wants to become an optician, and to invest their time and energy into this rewarding field, why wouldn't they want to get certified? Don't let test anxiety hold you back. Set a goal for yourself and accomplish it. Both personally and professionally there is no down-side to gaining certification. Find time that you are "wasting" in your day (i.e. social media, television) and study resources that will help you pass your examinations. This takes discipline, but it is worth it.
In your experience, what is the best way to prepare for an Opticianry test?
I believe that everyone responds differently and has differing learning styles. A multi-prong approach that includes studying written materials, taking practice tests, watching videos and using flash cards will usually "do the trick."
I would recommend topic immersion, where one uses multiple resources to learn a specific topic that they may be having a difficult time grasping. For example, if someone does not understand the concept of vertex distance they might read a chapter in a text book, a magazine article, and watch some YouTube videos over vertex distance. Eventually the concept will click.
What do you remember as being a prominent part of the test or that you were surprised to see on the test?
Many test takers will make comments such as, "I can't believe how many prism questions were on my test" or "My test was all prism." This is not really the case. All tests have a similar distribution of questions types, but we are wired to perceive that we have a lot of questions on the topics that we have a hard time with. My test was all ANSI standards – No, but you should have made this topic a priority in your studies.

How do you decide if an additional credential should be earned?
Opticians should never stop learning. Get credentialed for the job that you want, or for the role that you would one day want to have. Position yourself for success.
What was the point when you decided to attain your license/certification?
I was fortunate to go through Roane State Community College's A.A.S in Opticianry program. This program lended itself towards me being prepared for certification and Tennessee state licensure. Once I was in the field I decided to go back for my bachelor's and masters degrees which have opened various doors for me within my career: instruction optics for multiple colleges, holding continuing education classes, writing for various eyecare publications, and administrating a large ophthalmology group. I decided I wanted to gain my advanced NCLE certification because I'm a nerd and enjoyed the challenge.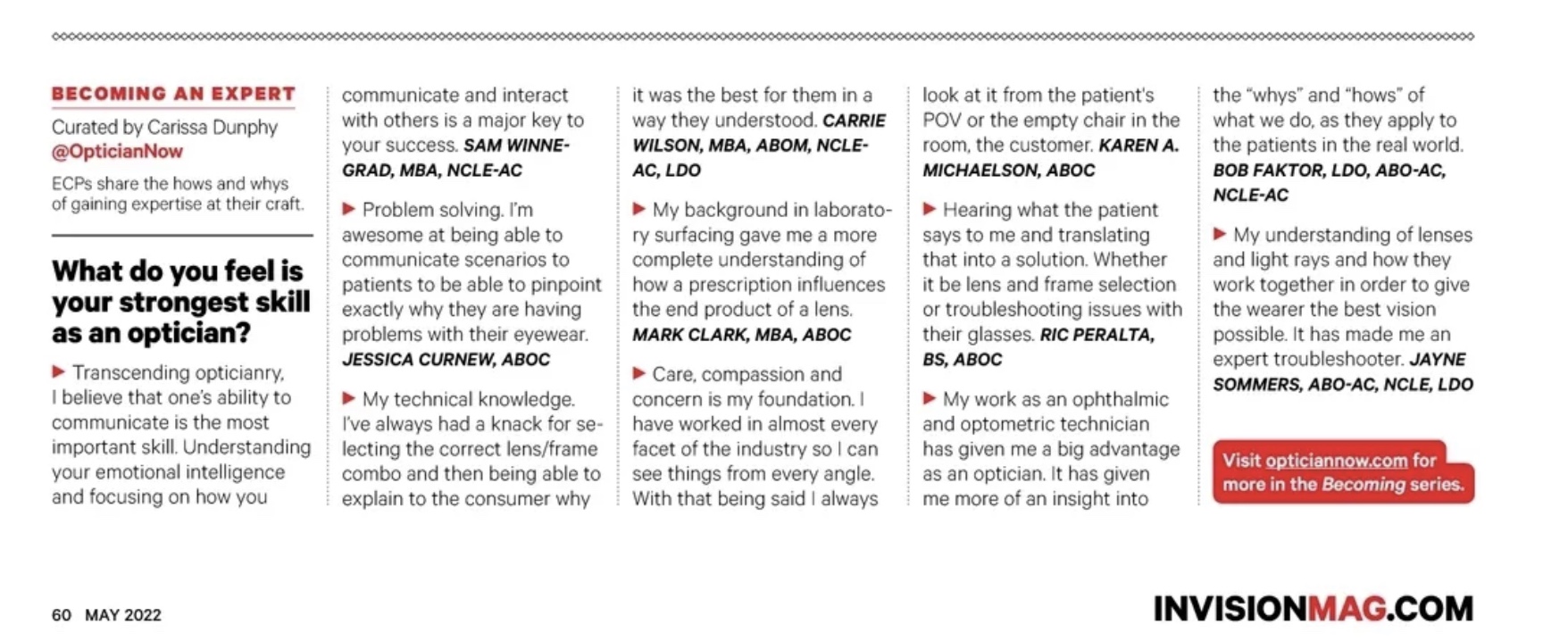 What do you feel is your strongest skill as an Optician?
Transcending opticianry, I believe that one's ability to communicate is the most important skill. How are you communicating with your patients, your co-workers? Understanding your emotional intelligence and focusing on how you communicate and interact with others is a major key to your success.
What role have you held that best helped you to be the Optician you are today?
When I decided to instruct opticianry classes at Roane State in Tennessee I made a conscious decision that I would need to truly understand the material that I was presenting. Taking the time to study the nuances of optics and eye anatomy has had a tremendously positive impact on who I am as an optician. Spending just 10 minutes a day to develop your understanding of a topic would have a compounding effect on one's career.
What is your advice to someone who lacks sales skills or confidence?
Not everyone is a natural "seller." It may seem cheesy, but using pre-scripted conversation starters can work wonders for engaging with patients. "Hi, my name is Sam. Can I help you look for some new glasses?" "No. I'm just looking."
"Sure. Even if you are not intending to purchase any glasses today I would love to help you understand the prescription that you were given."
You would be amazed at how many 3-minute astigmatism lessons translate into sales.
If you are no longer an Optician in the traditional sense on a daily basis, how did your Optician skills help you with what you're doing now?
In my current role as Director of Operations for University Eye Specialists I regrettably, rarely find myself interacting with patients in the dispensary. My optician foundation has been critical to my success in my current role. Having this firm knowledge-base helps me understand patient needs and better speak to the diverse situations that I encounter. Being an optician has also served to hone my people and communication skills. I think that being an optician is a very difficult, yet rewarding, role that will challenges and turns individuals into better versions of themselves.
Opticianry is constantly evolving, as it has for many years. Embrace these changes and see how you can better serve your patients. If you consistently provide top-notch patient care you will do just fine – regardless of how many online vendors, robots, or WHATEVER emerges on the scene.
Since I am an eye care nerd, in my free time I enjoy producing YouTube videos that are geared towards helping individuals pass their optician certification exams. I would love for folks to follow my channel and share with their optician friends! NCLE Contact Lens Training YouTube Channel
Responses in this interview provided by Sam Winnegrad, MBA, NCLE-AC
Find Sam online here:
NCLE Contact Lens Training YouTube Channel
NCLE Contact Lens Training Facebook Group
Get Certified! Optician Review Manual book on Amazon