What is your advice for someone working their way to become an Optician?
Be patient. There is soooo much to learn, from the medical aspect, lens options, prescriptions, troubleshooting, adjustments, insurance (ugh)…I remember wishing I could just be an expert and know it all immediately. I do believe that is what makes our career so fun though, all of the variety and different tasks we can learn. So be patient with yourself and enjoy the challenge.

Why should anyone get certified/licensed?
I worked to become ABO certified early in my career. As I've moved between states, it has mattered in some places and not helped me much in others. Research what is needed in your state or where you are considering moving. Despite it not always helping my pay scale, I have never regretted working hard to become certified. It gave me confidence in myself, which transfers to patients/clients. It also conveys to employers that you are dedicated to the field. I got certified when I was 20 years old, in California, where it isn't required by employers. When I went to open my own shop 20 years later, in CA, that certification WAS required and I was so grateful that box was already checked off! You never know where your career path will take you and it's awesome to be prepared for growth and progress!

In your experience, what is the best way to prepare for an Opticianry test?
I was lucky enough to start working in an optometry office where the OD was so helpful in teaching me. He taught me all about prism, the eye, the lensometer etc, he spent so much time helping me study and answering my questions. I also purchased the System for Ophthalmic Dispensing book by Clifford Brooks & Irvin Borish. I spend hours in the library studying and read the book in it's entirety. So work for a cool boss, and study hard.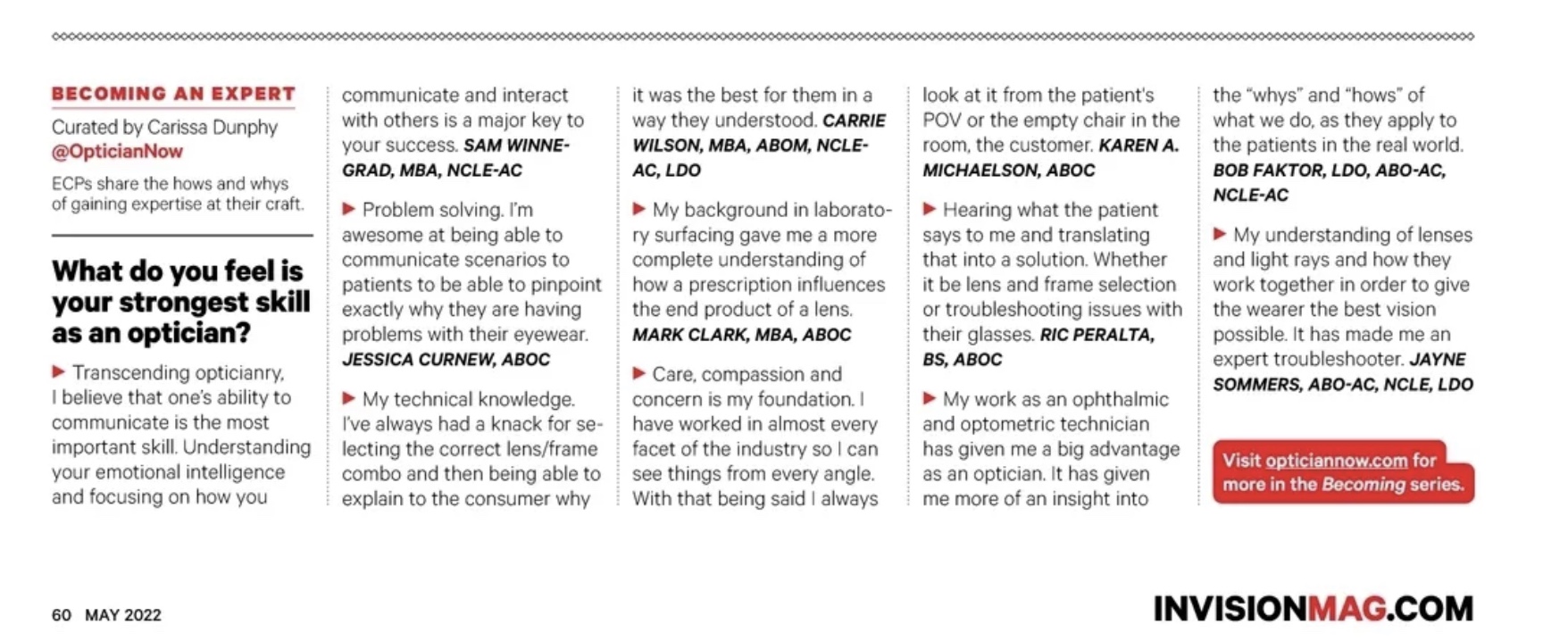 What do you remember as being a prominent part of the test or that you were surprised to see on the test?
Honestly, I don't remember. It's been over 20 years haha! I do remember being surprised how EASY some questions were and being totally lost with others.

What was the point when you decided to attain your license/certification?
As soon as I was hired at an optometry office, I started working towards it – with the encouragement of my boss.

What do you feel is your strongest skill as an Optician?
Connecting with people. I absolutely love helping people feel good about themselves in their eyewear and getting to know them. I am very empathetic, which is sometimes a negative, but people can sense I really care and this breaks down barriers and builds trust.

What role have you held that best helped you to be the Optician you are today?
In 2008, I helped an optometrist open a brand new business in Asheville, NC. I started working there when construction was still going on, and built the systems from the ground up. I ordered frames, put together display furniture, learned new medical equipment, put together office procedure manuals, helped with hiring. I would say this experience was the most helpful to me as I've pursued opening my own optical shop.

What is your advice to someone who lacks sales skills or confidence?
If you don't trust yourself, other people won't either. Ask questions constantly, learn from others- whether it be a rep, doctor or even a patient. Delve deep into WHY you don't feel confident. Therapy and business coaching have helped me immensely. We all have room to grow.
Responses in this interview provided by Kyla Skinner, ABOC
Find Kyla online here:
Specs By Kyla Website
Instagram
Facebook